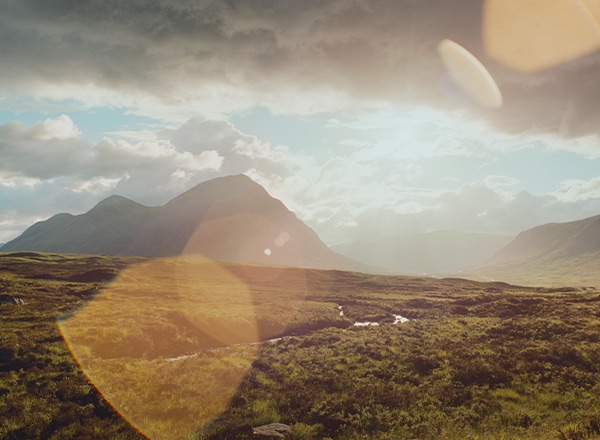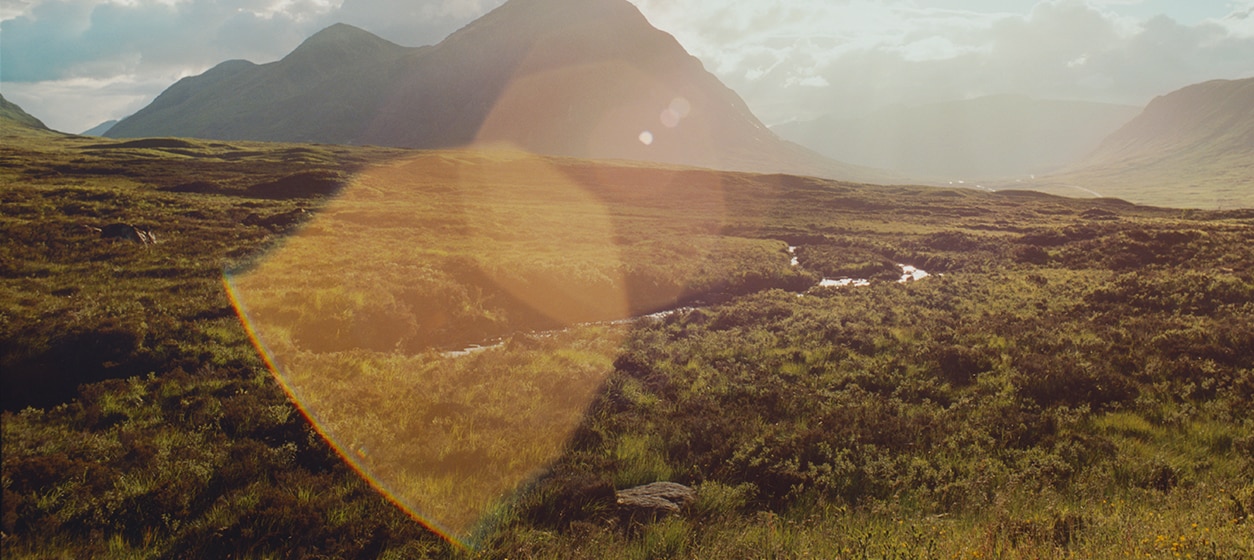 The story behind our limited-edition collection. Céline Roux and perfumers Anne Flipo, Marie Salamagne and Yann Vasnier discuss the Highlands collection.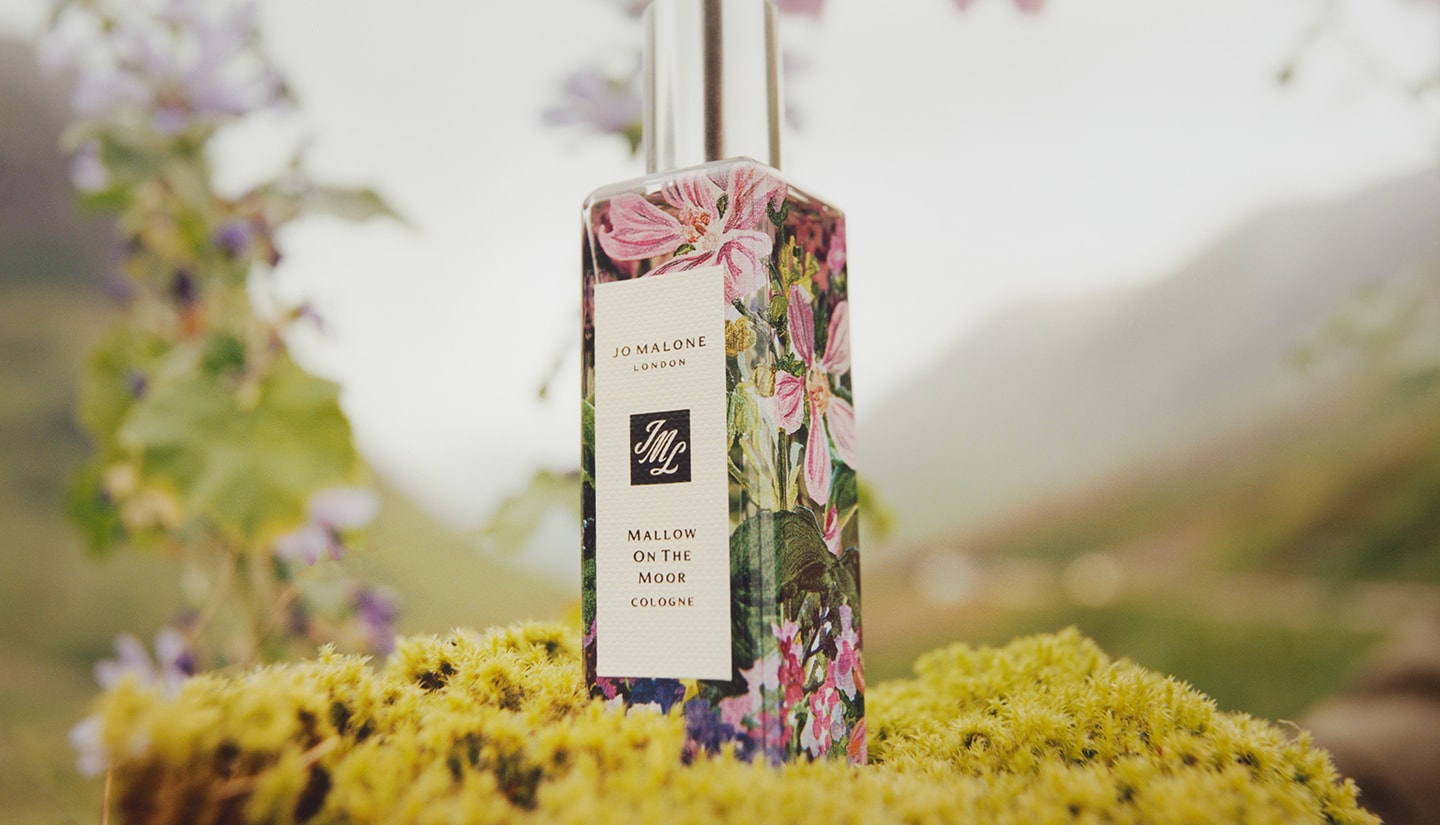 The untamed beauty of the Scottish Highlands inspires a new limited-edition collection comprised of four scents, exploring vivid landscapes of rugged highlands, misty moors, crumbling castles and mysterious lochs. 'Often, when we think of the British countryside, we think of something that's a bit more orderly, a bit more groomed,' says Céline. 'But with the Scottish Highlands, nature runs wild in such a dramatic way. We really wanted to embrace this with this collection. The idea that however much you may try to control nature, when left to its own devices it just takes over.'
Originally inspired by Scottish castles left to wrack and ruin, Céline began to expand her focus; investigating wildflowers native to Scotland provided a purple and yellow colour palette to explore and guide the ingredient selection of the collection. 'We always had certain images of the Highlands in our minds that we wanted to explore: purple heather covering misty moors, wildflowers entwining castle walls, and the noble thistle, ruggedly beautiful flower of Scotland,' says Céline. 'We worked together with the perfumers to come up with different ideas for how to express these inspirations in fragrance, to really think outside the box in terms of the olfactive, always staying focused on the idea of being in nature.'

Marie also uncovered a love for an iconic flower of Scotland: heather, which she used to create an elegant, enticing, fresh and wild fragrance – Highland Heather. 'I was fascinated by how heather turns whole hillsides purple when in bloom, attracting bees that make the most prized honey,' she remarks. 'Heather offers aromatic, woody notes, as well as fresh florals, both of which were represented in our heather accord. To this we added cypress and vetiver for naturality and amber for sensuality. Towards the end of the development, we blended in English lavender to really emphasise that purple, aromatic appeal so beloved of the bees.'
Mallow On The Moor is a soft, powdery and charming scent that takes its cue from purple mallow flowers. 'I presented a mallow accord to Céline that she was really keen on from the start, so after that it was just a question of trying to create the right balance of softness, sweetness and powderiness in the fragrance,' Yann recalls. 'To retain a sense of petaly freshness in the top, we used violet leaves to keep things green and fresh. In the heart, we worked around orris and heliotrope for softness and, in the base, we blended exclusive roasted oak to represent the earthy, peaty textures of the moors.' This roasted English oak absolute, which gives a rich, smoky-sweet depth to fragrances, was developed
by Yann specifically for Jo Malone London. The heart and soul of a nation – as well as the ancient British woodlands where it grows – the oak tree's roasted wood lends warmth when layered with other scents; indeed, it forms the backbone of both our English Oak & Hazelnut and Silver Birch & Lavender colognes. What better option then, when, as Yann says: 'Our priority was creating a sense of softness and comfort while capturing the petaly charm of the purple mallow flowers.'
'The collection didn't feel complete until we began to think about re-introducing Wild Achillea,' says Céline. 'A fragrance that first appeared in our Wild Flowers & Weeds collection, it quickly became a favourite. Achillea is a flower that bees are also very attracted to, which, combined with its vibrant green freshness, made it a perfect match for The Highlands collection. When you smell it you really feel transported to wild nature, which is very much the feeling with all the new fragrances in the collection. It made sense for it to be the fourth fragrance in the line-up.'
All the fragrances burst with naturality, transporting you to the unique landscapes of the Scottish Highlands where nature runs wild. Which will you choose?