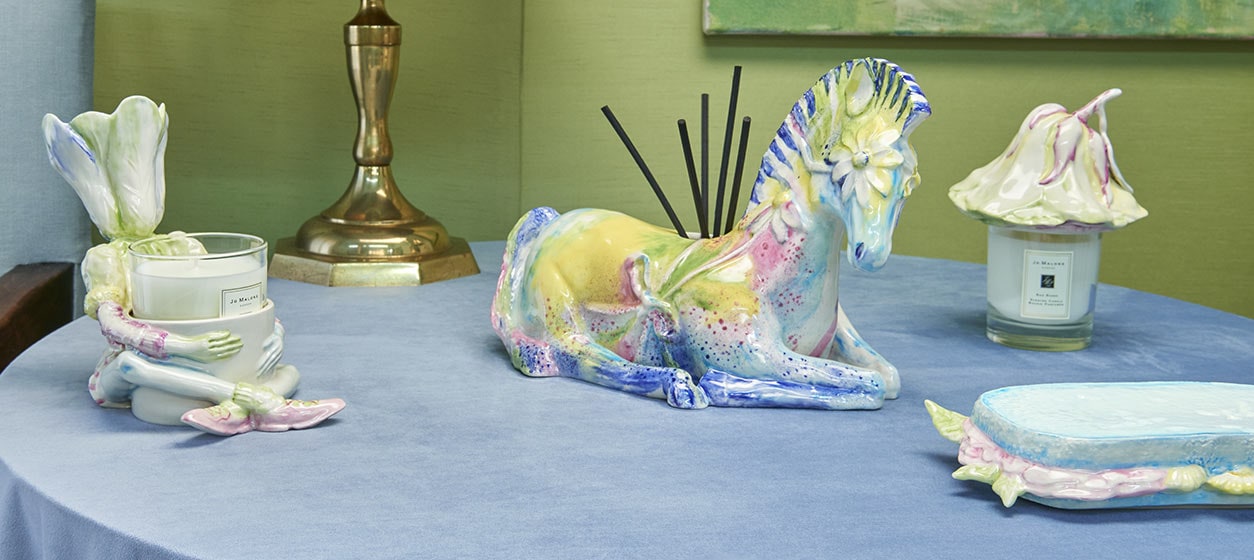 Shona Heath On Her Latest Collection
'Up the garden path' a collection of candle accessories by set designer Shona Heath celebrates the heady magic of an English country garden. In this surreal wonderland of flora and fauna, flowers have cross pollinated with humans and animals, and then proceed to have a jolly old time frolicking in nature. Based on a short story written by Heath, the unusual ceramic items from the collection include the paint splattered 'Lesser Spotted Zebra Diffuser Cover' with a striped punk inspired hairstyle, and the 'Blue Sandwich Duo Tray' filled with rose and bluebell flowers.

"The name is a metaphor for being led astray," says Heath on the story and concept behind the collection. "It's based on these two characters, Mr De vingles and Lily. He's rather stuffy and she's this polite prim girl. They walk down the garden path together, and he falls in the roses, something overcomes him, and he changes into a much nicer person." Of course, the pair end up not only as great friends but also transform into flower people, with petals for hair and stems for arms and legs. "It's a tiny bit psychedelic and not meant to be taken seriously," says Heath who was inspired by the illustrations of Francois Pinet and the peculiar flower people which inhabit his work.
Each piece depicts a character or surreal scenario from the story. "The collection evokes the heady smells of the English country garden, you know, petals and pollens, and sniffing roses," she says about the dream world that she has created. "And this is so obviously connected to the world of Jo Malone London and all the different scents of the candles."

The surrealist nature of collection taps into Heath's signature sense of fantasy and playfulness, most famously seen in her set designs for the photographer Tim Walker. The duo's creative partnership has been responsible for some of the most memorable fashion images of the past 20 years, including numerous Vogue covers and campaigns for Jo Malone London. The 2018 retrospective exhibition 'Wonderful Things by Tim Walker' was designed by Shona Heath for the Victoria and Albert museum and was one of the most popular photography exhibitions that the institution has ever hosted.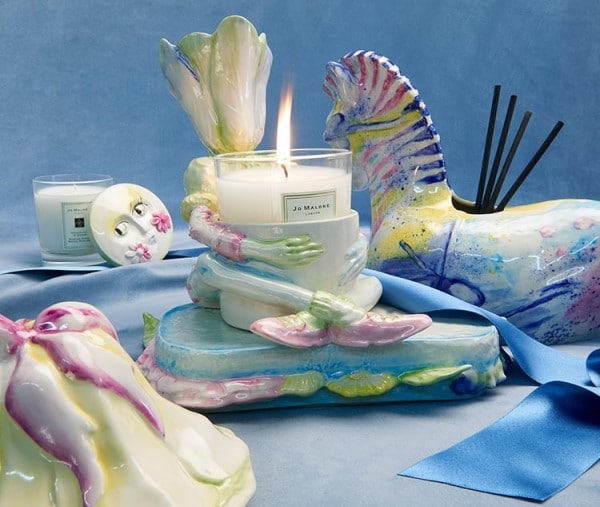 Discover Shona Heath's latest collection. Receive a complimentary home candle with the purchase of our Petal Head Candle Holder.